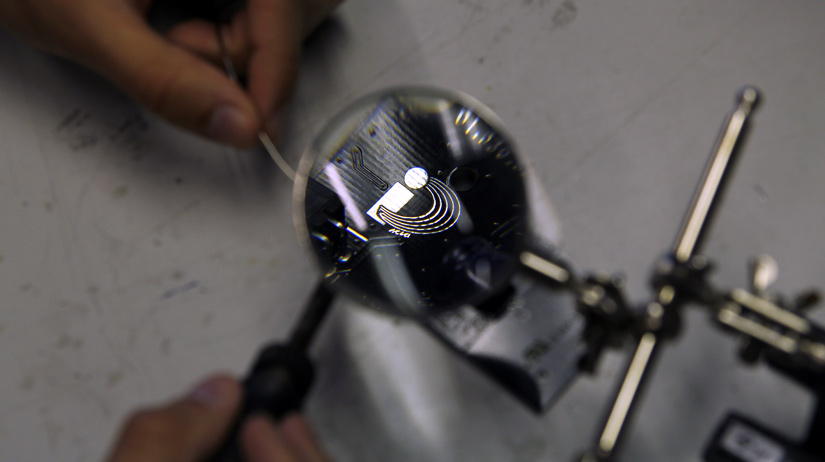 IDnova an RFid Company
IDnova manufactures and sells solutions for Radio Frequency Identification (RFID). The company comes from the union of the RFID project abilities of Cesvit Microelettronica Srl and the industrial skills of Rotas Srl, label producer since 40 years.
Since July 2006 IDnova develops, manufactures and sells ICT products based on RFID technologies, RTLS (Real Time Location System) e WSN (Wireless Sensor Network).
Key expertise and experiences since 1997 in the areas of passive (LF, HF and UHF) and active RFID technologies, with three patents for special tags working in harsh environments.
In-house RFID design and integration capabilities (tag, antenna, interrogator, middleware)
Full line of HF and UHF RFID products, including product families to cover short , mid and long range applications
3.5 MEuro revenues in RFID products and services in 2011
10 people permanent staff of RFID technology-specialists
Key-players in domestic and European RFID markets
1997

TEXTRACK

RFid system for the traceability of pieces in textile manufacturing laboratories. Development of traceability systems in flat line production. Development of a specific transponder with the following characteristics: a) Diameter 9 mm, thickness 0.8 mm. b) Reading at a distance of 4 cm. The transponders have been designed to achieve the following degrees of protection: 1) High Temperatures (250 C° for more than 10 minutes). 2) High pressures (up to 20 bars). 3) Resistance to chemical attacks by solvents, acidic substances and basic substances.

2000

SIDCOM

Electronic technologies in the RFID sector, competence network training. Projects aimed at supporting SMEs in the process of introducing new RFid technologies and Contactless sensors. Tale-up action for the transfer of non-contact technologies for sensors and devices for identification and communication of data in Radio Frequency Identification (RFID). Technical and administrative management of four demonstration projects in industrial applications for four different SMEs. 1) Charge transfer sensor for measuring the level of the fluid (LPG container). 2) Sensor for ion concentration measurement (resins for softening dishwasher water). 3) Access control system for prepaid restaurant service, with passive transponder LF, RFid operating at 125 KHz frequency. 4) System using ISO 15693 HF (passive RFid) transponders for industrial laundries.

2001

MAMA Trasponder

MAMA Transponder with analogue ASIC for ISO15693 protocol management, temperature sensor and integrated datalogger. Development of an analogue transponder on an Integrated Circuit operating at 13.56 MHz and creation of a transponder equipped with a temperature sensor for monitoring the cold chain in a company that transforms fish products. RFID system for the localization and traceability of perishable food products and for the recording of temperature data associated with the data "reading time" in the processing process.

2002

MEDITAG

Identification and localization system for the intelligent management of patient data in first aid and ambulance pick-up. Complete biomedical system for the localization, identification, recording and management of patient data in the Emergency Area 118 and in the First Aid Area. The System includes a suitable software able to manage: a) Smart Label RFid passive in Badge format; b) Portable reader managed by a palmtop on an emergency vehicle; c) Fixed reader for communication with the local S.I. (ex. the Emergency Room).

2004

ARS

ARS project for the management of the clothing production process. Application for the identification in the supply chain of the fashion industry, with the use of UHF smart labels printable with barcodes arranged in boxes and at very close distance (6 mm). Results: a) Reading of all garments placed inside a box (up to 700 tags per minute) b) Reading reliability of 99.70% c) time-saving ratio: "IN" time-reduction of 90% "OUT" time -reduction of 75%.

2006

GUCE.2390

Passive RFID system in UHF band for industrial logistics applications. Integrated Radio Frequency System in UHF band for an application in industrial laundries composed of: a) UHF gate b) Motorized RFid UHF tunnel for the automatic recognition of several hundred garments equipped with passive UHF tags c) UHF transponder able to survive the normal operations of washing and ironing d) UHF transponder for the tracking of cartons and pallets even in the presence of metal objects.

2007

Firts UHF custom Gate with auxiliary and middleware antennas

K&K Logistic

2007

Tag 134,2 KHz (Boli) for cattle

2008

IDN-ALR245SA Stand Alone Reader for active Tags and IDN-ABG245 2.45 GHz Active Tag

2008

Snam

Asset monitoring along the gas distribution network. The RFID Tag resists to bad weather conditions, to common solvents, to grease, mineral and vegetable oils, to sandblasting and to anticorrosive painting.

2009

Fire extinguisher management system

ThyssenKrupp Special Steel

2008

Poste Italiane Asset Tracking

Item tracking with position, configuration, conditions check and number using UHF RFID technology with passive tags.

2009

MINEVRE

Realization of sensor-integrated systems for remote wireless transmission of acquired data. Development of intelligent HUMS (Health and Usage Monitoring Systems) and systems for the Identification and Remote Communication of data through Active RFID technology developed by IDnova srl. Common identification methodologies and HW/SW operating platforms for the automatic identification and logistic management of weapons equipment and systems in the military field. Research and Development project in the field of WEAO/EDA funded by the Ministry of Defense.

2009

G8 Energy access tracking

Real time monitoring of the accesses, security reinforcement for the identification of the access authorizations, with maximum level of security (encryption information in radio frequency) and reliability (detection of the direction of crossing).

2010

International Case History Gate RFID UHF

http://www.rfidjournal.com/articles/view?9090

2010

HF Gate for launderettes

2010

RFID technology for door-to-door recyclables collection with fee based on the quantity of waste produced

Padova TRE

2011

UHF Shoplifting Gate

Tessilform

2011

IDnova acquires part of the RFID company Cesvit Microelettronica Srl

including also an experienced R&D dept. (existing since 1997).

2011

Design and manufacture of Upad.

Innovative encoding system for supply chain control, counteraction of the parallel markets and anti-counterfeiting.

2011

Devices for the realization of indoor Location Systems with position identification of the areas for each floor.

2012

RFID technology for waste collection management with portable 125Khz datalogger.

Publiambiente

2013

RFID technology for waste collection management with portable one-button 134Khz reader.

2013

UHF Tunnel for launderettes

Quick and automatic count of mops (both dry and wet) inside a cart. Display with easy-to-use UI with dry or wet settings.

2013

Inpatients detection system in assigned areas.

Active tags RFID system that detects the escape of inpatients from assigned areas.

2015

Fork lifts anti-collision auxiliary system

Slowing down of fork lifts or audio-video warning in case of proximity with other vehicles or operators.

2015

RTLS (Real Time Location System) system with active APL (Light Air Programming) Tag

2016

Active tags system for the vehicles detection in parking lots; alarm and notice in case of parking violation (forbidden or reserved parking).

The system detects the presence of a vehicle in the specific area and notices the local operators.